Welcome to your kickoff!
It's now time to begin your Data Analytics program at Merit America! This page will prepare you for your journey to a new, rewarding career. Be sure to carefully review the information below.
Program Overview
Watch each video below to set yourself up for success in your program!
Program Phases
Check out this video to learn about the Data Analytics program, Merit America's program phases and more!
Setting Yourself Up for Success
Watch this video to learn about setting yourself up for success, program progression weeks and more!
Tech Platforms Overview
Watch this video to learn about tech platforms you will be utilizing during the program!
---
Important Dates
Kickoff Event: Tuesday, 9/12 @ 1 p.m. ET
Click HERE to RSVP!
Tech Orientation: Friday, 9/15 @ 11:30 a.m. ET
Click HERE to RSVP!
This event is highly suggested for a deep dive into your program's tech platforms. If you are unable to attend, a recording will be put in your Tech-Collab Slack channel.
Monday, 9/25 at 6 p.m. your timezone:
First due date for coursework!
Helpful Resources
TechOps@MeritAmerica.org
Events@MeritAmerica.org
🧠 Call or Text Perspectives for support in the many factors that can affect mental health and success, including coursework, finances, relationships & more! The program is confidential, voluntary, and available at no cost to you. Click here to learn more about Perspectives' offerings.
Call or text: 800.456.6327
Visit: PerspectivesLtd.com/Login

Access Code: MeritAmerica
Password: Perspectives
---
The results are in!
New data shows that Merit America learners experience an annual wage increase of $24,000 three months or more after completing the program. Click HERE to learn more.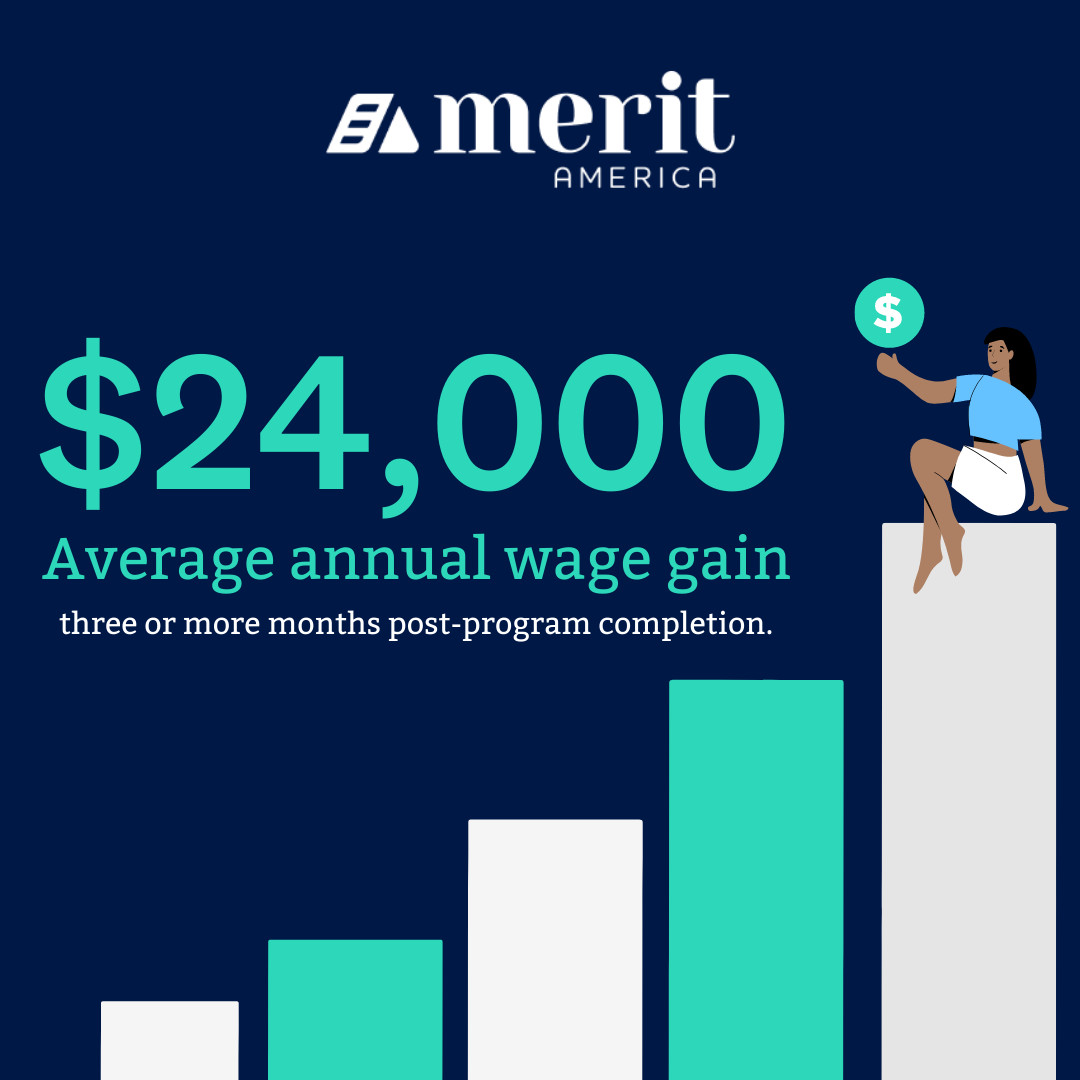 ---
Covering the cost of the program
Learners who are not sponsored by an employer can choose to pay upfront in full or apply for Ascent Funding's Zero Percent Loan. See below for Ascent's key information about the Zero Percent Loan, and visit their website for more detailed information.
Click HERE for a video overview of what you can expect with Ascent's Zero Percent Loan. Click HERE to learn more on Ascent's website.
You have four weeks to choose the option that works best for you.
If you withdraw prior to Week 5, you will owe nothing, and after Week 5, you will pay for the portion of the program you have completed. For complete information on our refunds, click here.
So you know what to expect during these first four weeks, here is the process you'll follow to either pay upfront in full or to sign up for a Zero Percent Loan. We've included where you'll complete each step or find information, and all emails will come from success-sharing@meritamerica.org
---
You are protected by our Merit America Guarantee
At Merit America, our primary goal is to generate wage gains for learners, in careers they love. We're so confident in our program that we promise that if you still don't earn at least $40k within two years of completing the Immersion phase, you don't have to pay. If you qualify, fulfill the requirements, and still don't earn at least $40,000 a year (or $3,333.33 a month) at any time within two years after completing the Immersion phase, you may be eligible for a full refund or cancellation of your loan. To review the full requirements, please click here.
Not sure where to begin?
Learn more about how you can break into tech